First post in the new year and let's not start as usually, with an article about watches.
Believe me there will be loads of 'watch' news in two weeks from now and there after.
Last year we did a large article about Cartier Alarm clocks, the small ones from the eighties
with mechanical movements and the current collection of alarm clocks.
But now we actually wanted to high light the larger table clocks a bit more.
Cartier does not have many in the current collection, but in the past the company had released,
really amazing pieces.
Something that became very clear, during the exhibition 'Time Art', that was held in Zürich
and Singapore, last year.
When I was young, a clock in the house was the pivot point of the household.
An eye catching clock was something people where very proud of and it was also used,
as the place to leave a note for a family member, leave the money for the housecleaner
and as a place to leave the letters, that needed to be posted, later in the day.
This is something that's surely not forgotten, when I look around in the houses of my friends,
I quite often see an Atmos by JLC or a vintage English carriage clock.
Before we go into the history of Cartier clocks,
let's have a look at the current collection of clocks.
Usually the Cartier models are limited, which gives it a nice exclusivity, but the downside is
that there is no Cartier clock that became as popular as the JLC Atmos.
On the other hand, who want to have the same clock as it's neighbor.
The very limited and collectable PENDULE OCTOGONALE.
has a mechanical calibre 6002MC and a power reserve of 8 days and was released in 2012.
Cristal de roche, massive silver palladium finished and cabochons en grenat rouge.
The socle is made in jade noir and massive silver, palladium finished.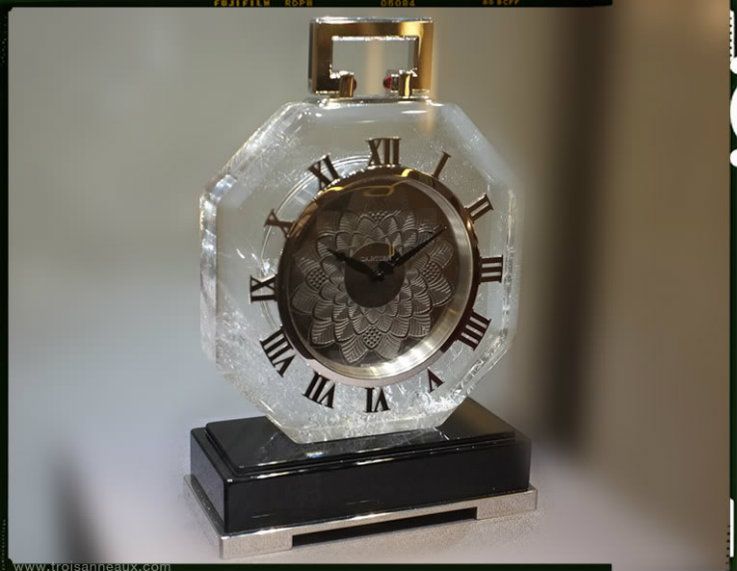 The Tank Chinoise clock, was also presented in January 2012.
A limited edition, exceptional Tank Chinoise clock, in a polished and brushed steel case.
"Swiss made" quartz movement and therefor ideal for an office for instance.
Dimensions: length 150 mm x width 80 mm x height 170 mm.
EXCEPTIONAL VENETIAN INSPIRATION DECOR CLOCK,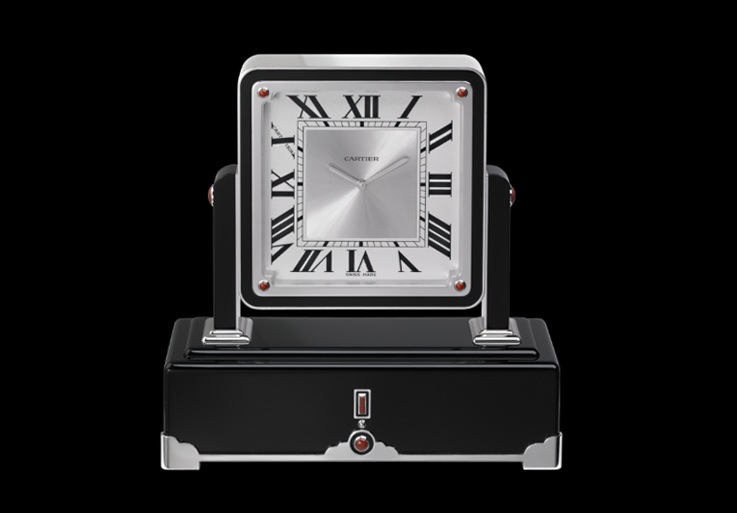 Exceptional Venetian inspiration decor clock in sterling silver with palladium finish,
black lacquer, red jasper cabochons. Caliber 6002 MC mechanical movement.
Dimensions: 140 mm x 50 mm x 142 mm.
Also this clock is a limited edition.
EXCEPTIONAL CARRIAGE CLOCK
Polished and brushed, palladium finished with mineral glass on the sides,
Pyramidal onyx cabochons on the corners sunburst silver colored dial, mechanical movement
with 8 day power reserve.
Dimensions 93mm x 72mm x 174mm
EXCEPTIONAL "MIGNONETTE" CLOCK,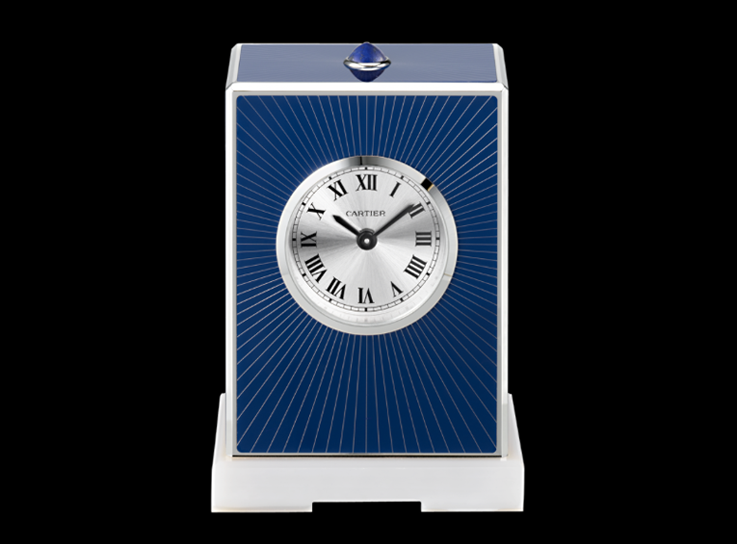 Limited edition. Exceptional "mignonette" clock, sterling silver with palladium finish,
"guilloché" decor and blue lacquer, lapis-lazuli cabochon, mechanical movement 6002MC
with 8 day power reserve, stand in gray agate.
Dimensions: length 90 mm x width 55 mm x height 39 mm.

From past collections and now we're talking mainly 1920 – 1930,
Cartier was famous for it's prism clocks and it's mystery clocks.
But also in the seventies, several Mystery models were available in the collection
and some prism clocks in the eighties.
These very mysterious clocks with hands that looked like they were floating in the air,
were created by Maurice Coüet for Cartier, from 1920 onwards.
Cartier's impressive private collection of Mystery clocks, that La Maison had bought back from
collectors and at auctions, were presented at large, at the above mentioned exposition 'Time Art'.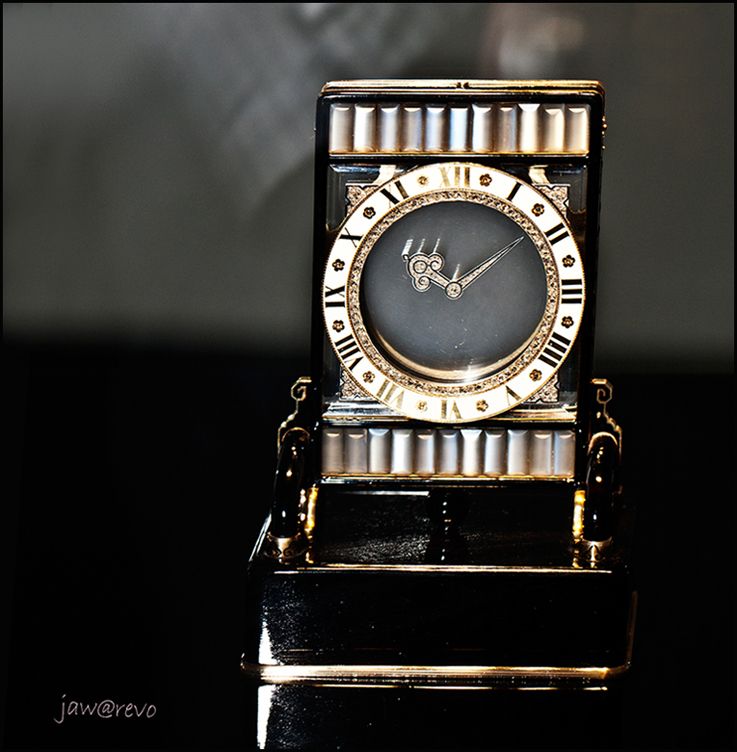 – Screen Mystery Clock, Cartier New York 1926, with rectangle 8 day movement –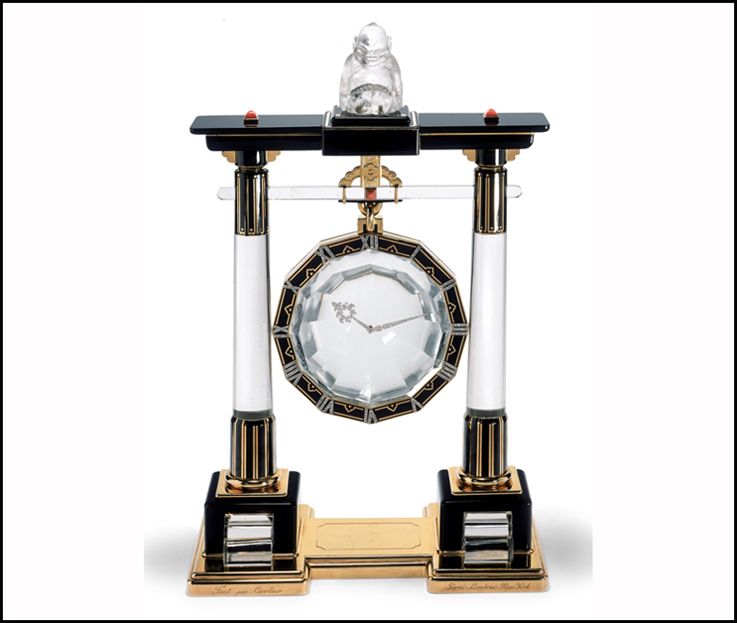 – Large 'Portique' Mystery Clock, Cartier Paris 1923, square 8 day double-barrel movement –

Quite recent, 1997 actually, this very handsome version was seen in the collection;
DOUBLE TIME ZONE MYSTERY TRAVEL CLOCK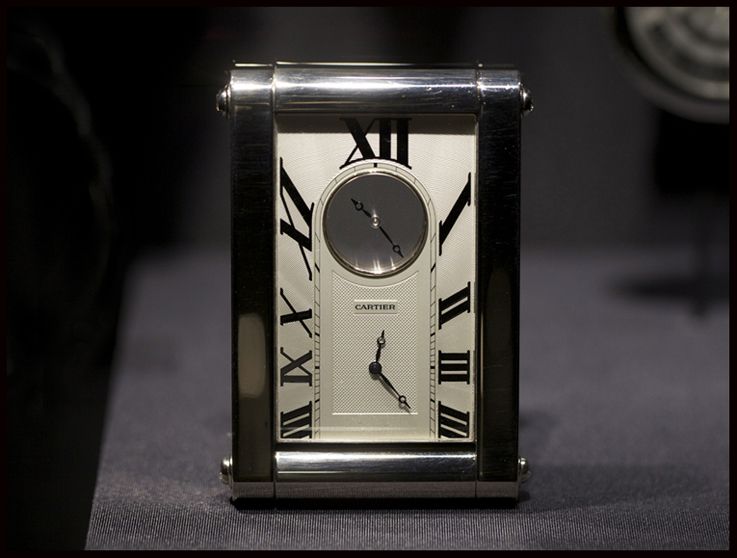 – The Double Time Zone Mystery travel clock was designed for the 150th anniversary in 1997 –

The clock has a Strut cover a rectangular movement with double time zone mechanism
and round windows in the cover and in the sliding back, that makes it possible to read the time,
when the cover is closed.
Clocks that always intrigued me a lot, me were the Day & Night clocks.
With dials that look like a paintings

– Day & Night 'Comet' clock, Paris 1913 –
and where always something is going on.
Cartier even did a watch with a kind of 'Jour et Nuit' display in 2006.
Very exiting and not seen much these days, are clocks that are often called, mystery clocks,
but in fact are, 'Prism' Clocks.
One has to look from a certain angle, to be able to see the time.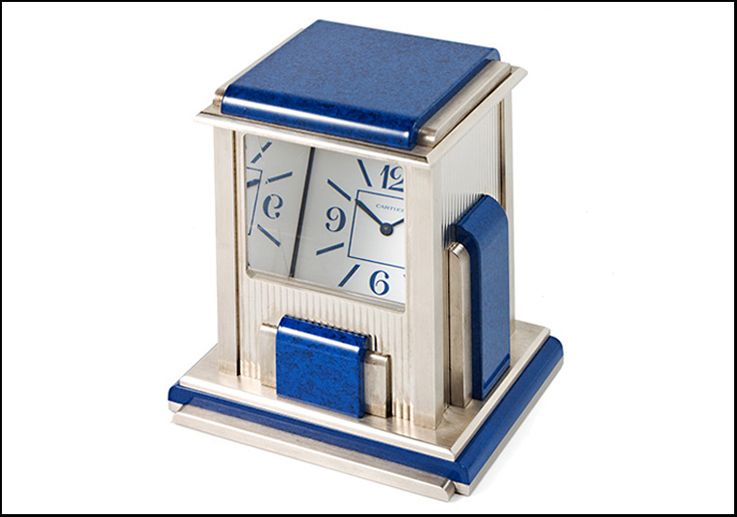 This blue jasper and very Art Deco version, is a quartz clock from 1991.
But Cartier made also quite a few smaller versions, around 1964
and mechanical versions with 'LeCoultre' movements in 1952.
Cartier's watch collection and certainly the iconic models, like the Santos and the Tank,
are world famous and ….. since decades.
But clocks of course, are made for a much smaller audience and will therefor never be products
that hit the headlines of the watch- or glossy magazines that often.
Cartier's experience and reputation in clocks however, is very important in the entire history
of watch- and clock making, especially their Prism clocks, Mystery clocks and clocks with moon phases.
To me Cartier's clock collection is tóó beautiful, just to watch at exhibitions, no matter how
interesting these expositions are.
A clock belongs in a living room or library, since after all, they make a home out of a house!